*APPLICATION PERIOD STILL OPEN!*
PAUNSAUGUNT
TROPHY MULE DEER HUNT GIVEAWAY
$10 per application. No limit to the number of applications.
FULLY GUIDED 1 on 1 by the unmatched MossBack Guides & Outfitters! One non-hunting guest may come for a nominal charge of $100 per day.
Deer permit fee is INCLUDED for residents AND non-residents.
Hunt takes place on the Paunsaugunt Deer Hunting Unit in Utah
For every $100 spent be entered to win the Ridgeline Titanium rifle giveaway
Food AND lodging included.
Hunt is completely transferable. Each applicant may apply as many times as they would like to
Neither a hunting license nor hunters safety card is required to apply. However, all Utah State regulations must be followed in order to hunt.
7 day hunt period between October 22-31, 2022
No age limitations to apply
Hunter is responsible for fees paid to the state of Utah for hunting license.
Hunters with current tags may still apply.
Application period ends Sep 15, 2022 at 11:59pm.
APPLY For: Pauns DEER HUNT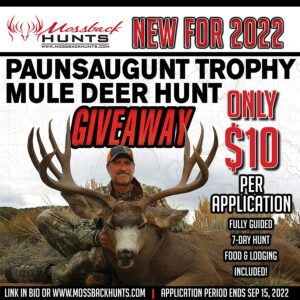 APPLY 10 TIMES?
That's 10 more chances to win. PLUS you automatically qualify for another drawing for this:
Christensen Arms – Ridgeline Titanium 28 Nosler
The Ridgeline Titanium Edition combines a precision titanium action with our signature carbon fiber barrel at an impressive price. The firearm features a titanium radial brake, spiral fluted bolt, and a carbon fiber composite sporter stock with a Metallic Grey with Black Webbing finish. The Ridgeline Titanium weighs in starting at 5.8 pounds and is backed by the Christensen Arms Sub-MOA Guarantee.